Asia Insider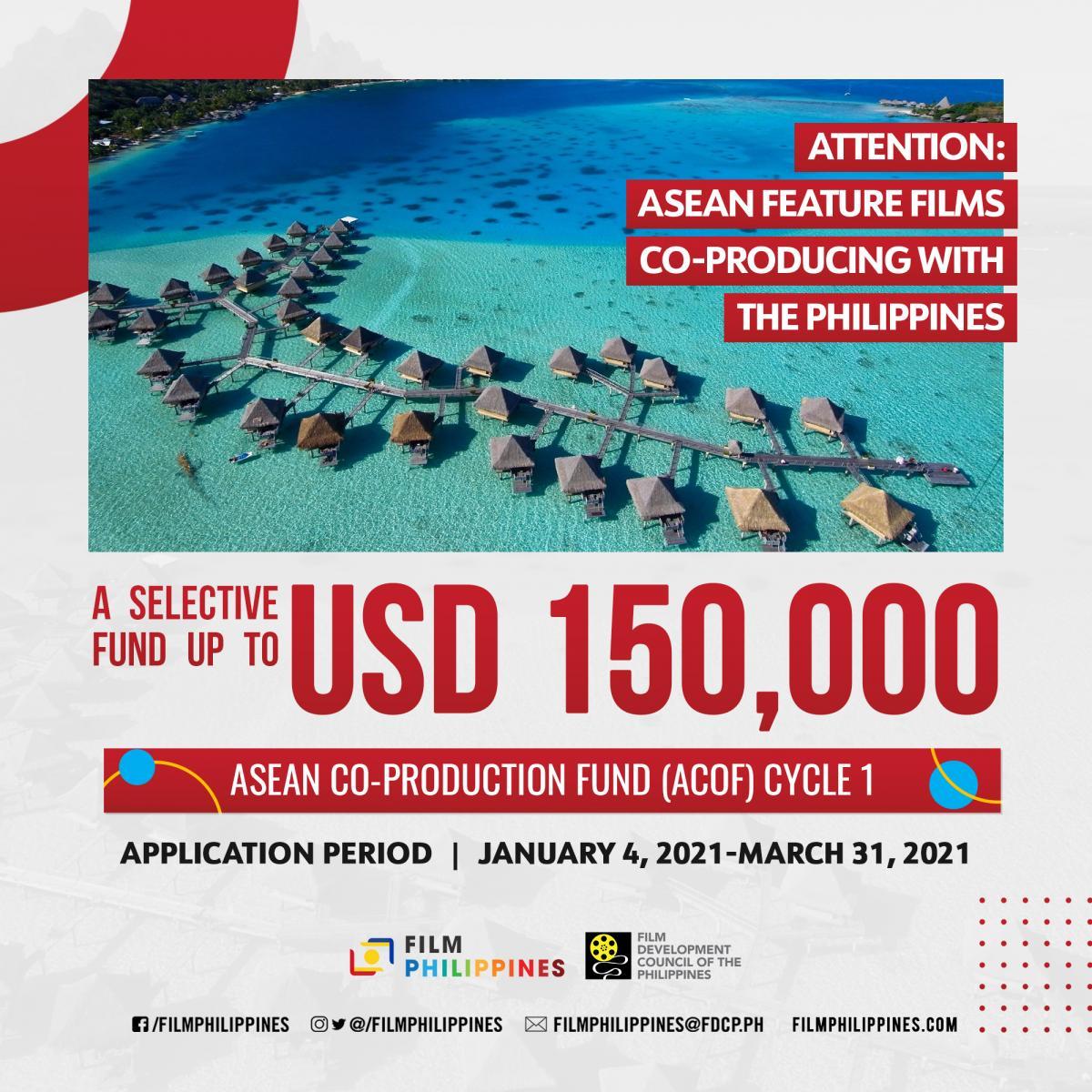 FDCP's FilmPhilippines to Jumpstart 2021 with a New Film Incentive ― the ASEAN Co-production Fund
MANILA, PHILIPPINES, DECEMBER 14, 2020 — In order to support partnerships between the Philippines and fellow member states of the Association of Southeast Asian Nations (ASEAN), the Film Development Council of the Philippines (FDCP) through its FilmPhilippines Office (FPO) has launched the ASEAN Coproduction Fund (ACOF).The ACOF is a selective fund that will support every selected project with up to USD 150,000 (approximately PHP 7.2 million), provided that the coproduction involves a Philippine company registered with the FDCP's National Registry and at least one company from an ASEAN country such as Indonesia, Malaysia, Singapore, Thailand, Brunei Darussalam, Vietnam, Lao PDR, Myanmar, and Cambodia.The ACOF, which will select up to two projects per cycle, will have three cycles in 2021: 1st Application Period January 4 to March 31, with Selection Committee deliberations in April 2nd Application Period May 3 to July 30, with Selection Committee deliberations in August 3rd Application Period September 1 to November 29, with Selection Committee deliberations in DecemberEligible projects are feature films of more than 80 minutes with a director of ASEAN nationality minority or majority coproducing with the Philippines. They must have a distribution guarantee or deal memorandum for a theatrical or videoondemand (VOD) release in the Philippines or for a minority Filipino coproduction, a distribution guarantee for a theatrical/VOD release in the country of origin. As for the ACOF spending, at least 50 percent of the fund must be spent in the Philippines in accordance with Qualifying Philippine Production Expenses (QPPE).A project is considered ineligible if it has received or solicited another grant from the FDCP such as the Film Location Incentive Program (FLIP) or International Coproduction Fund (ICOF). Additionally, the project must apply for the first time to ACOF. Projects will be evaluated on the following: Degree to which the work promotes ASEAN culture and territory Degree to which the work contributes to the ASEAN film industry Degree to which a Filipino producer participates in the creative production of the work Global quality of the project Financial strength and stability of the project International distribution potential through film festivals, theatrical/VOD release, and platforms in order to reach international audiences The latest FilmPhilippines incentive program also aims to enhance the Filipino cast and crew, encourage the ASEAN film industry to thrive in global film markets and festivals, and promote the Philippines as a filming destination with a onestopshop services desk for film and television productions in the country. In fact, an application to the ACOF automatically entitles the applicant to avail of the FilmPhilippines' Film Location Engagement Desk (FLEX) that taps into the FDCP's interagency government support network to help foreign and local audiovisual projects aiming to work in the Philippines with securing visas, work permits, location permits, partnerships with local crew and production companies, and other production logistics requirements. Applicant producers are advised to contact the FPO before their productions commence to discuss their projects and explore details surrounding the ACOF. For more information, visit www.filmphilippines.com or email filmphilippines@fdcp.ph.
01.18.2021
Netflix Opening Studio Facilities to Expand Korean Content Supply
Netflixsays that it is leasing nine sound stages at two facilities inSouth Koreain order to increase its output of Korean films and series.The two production facilities are located at Pajusi and Yeoncheongun, just outside of Seoul, in Gyeonggi Province. At YCDSMC – Studio 139, it will lease six stages and supporting spaces of approximately 9,000 square meters. At Samsung Studio, the streamer will also lease three stages of approximately 7,000 square meters."Netflix is thrilled to deepen its investment in Korea, as well as Korean films and series," said Netflix VP of studio operations, Amy Reinhard, in a statement. "With these new studios, Netflix is better positioned than ever to increase our production of great stories from Korea while also providing a wealth of productionrelated jobs for talented professionals in Korea's creative community." For several years, South Korea has been known within Asia as an entertainment industry powerhouse. In the last couple of years its influence on a global stage has also grown, with Kpop acts such as BTS and films such as Oscarwinner "Parasite" achieving commercial and critical crossover. Its TV content, long recognized regionally for its quality, is now finding success further afield, due in part to the global reach of streaming firms.Netflix says it has spent some $700 million on Korean content, including more than 80 shows, between 20152020. "These two purposebuilt facilities are another important example of our continued commitment to investing in Korea's creative ecosystem," the company said.Among the shows set to be made at the facilities is the previously announced Korean adaptation of hit Spanish series "Money Heist" (aka "La Casa de Papel"). Other, new Koreanmade stories currently in production or development include"Move To Heaven,""Kingdom: Ashin of the North,""Silent Sea,""Squid Game,""Hellbound,""All of Us Are Dead," and "D.P."Netflix also has multiyear content partnerships withCJ ENM/Studio Dragon and JTBC. In a separate development, JTBC Thursday announced that it is joining CJ ENM's streaming video service TVING. Both companies may produce original content for the platform. Online giant, Naver also committed to investment in the TVING venture. JTBC and CJ ENM said they were committing to more than KRW400 billion ($370 million) of production spend over the next three years.
01.13.2021
Incentives in Asia
Find out various incentives in Asia
More
Upcoming Events
Jordan
Amman International Film Festival
23 – 31 August, 2020
Taipei
American Film Showcase Online Forum
22, September
Contact
Phil Choy
philchoy@filmbusan.kr
+82 51.7200.327
Sophie Lee
oioisophie@filmbusan.kr
+82 51.7200.361
General
afcnet.bfc@gmail.com
+82 51.7200.327